Part 1 of 3: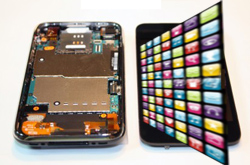 A common misconception is that all
mobile apps
are created equal. There are really two choices in the marketplace today:
native apps and mobile web apps.
 One lives on the device, the other in the cloud.  But the distinction between the two is becoming less clear.
As the user experience begins to blur between native and web based apps, the decision on which fork to take isn't so clear. What can make the decision process even harder is the advent of bringing mobile apps back to the desktop.  Sounds like going backwards ?
It's not, especially if you  consider removing clicks out of your daily tasks of checking Gmail.
A one click solution is what everyone wants. But first lets define how we got to this point.
What is the definition of a Mobile App?
A mobile app is software designed to run on smartphones, tablet computers, desktop computers and other mobile devices.  Although this seems pretty simple, under the hood a mobile app can be vastly different across devices and platforms, or shockingly simple. This all came about as a result of Apple's prison busting introduction of the App store and iOS development kit in 2008. This event released the creativity of developers from the cells of proprietary mobile carrier environments. Too much solitaire could drive anyone crazy. Hence the mobile app frenzy began.
What is a Native App?
A native app is specifically designed to run on a device's operating system and machine firmware. They are installed directly onto the device. User can download this type of app from distribution platforms such as the Apple App Store, Google Play, Windows Phone Store and BlackBerry App World. Some apps are free, while others have a price.
What is a Mobile Web App?
A mobile web app, or browser application, is one in which all or some parts of the software are downloaded from the Web each time it is run. It can usually be accessed from all Web-capable mobile devices..
How are these two forms of apps technically different?
Native apps only work on the one platform they were built for, plus they take longer and cost more to build than a web app. A native application developed for the iPhone will need to run on its proprietary iOS platform, Android or other mobile OS.
A Web app, however, is typically coded in a browser-rendered language such asHTML5, CSS3 and other modern web tech. A web app can run on pretty much any platform with a modern, standards-compliant web browser. Once a web app is launched, users on iPhones, iPads, Android phones, the Kindle Fire and Windows Phones can all access the same app and run it just as well as on any other platform.
What is changing in the mobile app marketplace?
With a far superior user experience, native apps have been the choice for businesses that are serious about their presence in the app market, and owning real estate on smart phones. Native apps require more time to develop, but deliver a much better ROI. This is especially true for apps that integrate with native hardware such as GPS and cameras.
However, this all may change in the next few years. As HTML5 gains the traction needed to reach the aesthetic of a native experience, updated web technologies will likely be interoperable with versatile hardware.
In the next blog (Part 2 of 3), we'll help you decide what type of app is best for your project…